I'm back!
Well, I had a good trip to Reno. It was a productive conference and I had a great first day there. I had intended to go skiing in Tahoe. But I never got any gear together, and I really didn't want to go by myself. So I rented a car, and first stop was Jimmy Beans Wool, the Reno store. Then to Trader Joe's for some reasonable priced food for the week. Then I went up to Truckee, CA. Then I went to drive around Tahoe. What beautiful place. It was cloudy, but the lake is beautiful, and the mountains were breath-taking . I took some pictures and will upload them soon. Then I will share.
I didn't knit as much as I had intended to, or thought that I might. But I did get some things at Jimmy Beans. I got some Rowan ribbon twist and Big Wool Tuft to make the capelet in the Rowan Ribbon Twist collection book. I had to get the book and the needles. I already finished it once, but I had to pull it out cause I screwed up somewhere. So I think I will work on it tonight. I also bought some Lorna's Lase sock yarn. Here they are.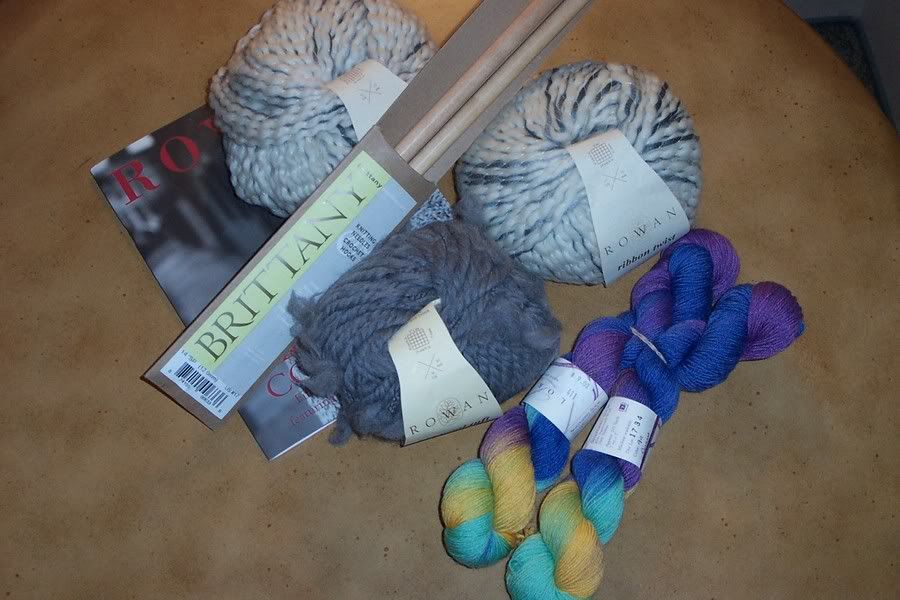 I worked on the market bag on the plane out there. But I read on the plane back. I will post pictures of my finished capelet soon.