Secret Pal Strikes Again
I got home yesterday and I had two notices left for me. No, I had not defaulted on my mortgage, my home is still mine, but I had 2 packages to pick up. The first was something that I knew was coming from my dad. And it came UPS, which will never leave things outside the door. But the other was from the postal service, and they usually leave things. So I was interested to find out what it was. So this morning I decided to go to work late and go by the post office. And there was a little package from THE BEST SECRET PAL EVER!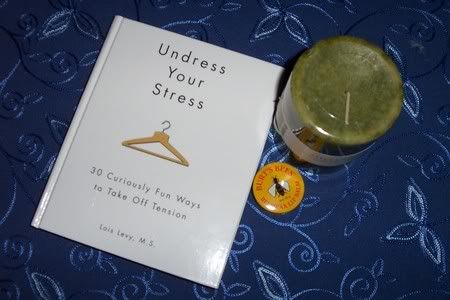 There is a great smelling citrus cilantro candle, some Burt's Bees lip balm, and a great little book called
Undress your Stress.
It is a great book full of stress relievers. Boy do I need that.
I still have some to go on Anouk. I should work on it tonight instead of just sitting on my butt in front of the TV. I didn't get much done this weekend. I was too busy reading
The Virgin Blue
by Tracy Chevalier. It is the same author of
Girl with a Pearl Earring.
I liked this book and it is the first non-medical book I have read in a while. It is a great book about family connections as the main character comes to realize where she should be in life. I have decided I need to read more. And I think that
Lauren
sums up the reason why in her post today.
Well, off to the Anouk and American Idol.