3 in 3
Well, 3 posts in 3 days is impressive. Not much progress on the knitting front. But I did want to share this.
Yes, that is my first
KnitPicks
purchase. I bought 12 balls of
Shine
to make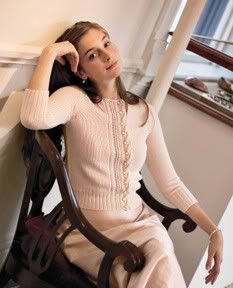 , the Vintage Pink cardigan from the Spring IK. I think the cream color will be nice.
Then I bought some
Crayon
in red and some
elegance
in green to make the Child's Placket-neck Pullover from
Last-Minute Knitted Gifts
for a friend who is having a baby. I wasn't sure which yarn would be best. The Crayon is a nubby one, and the Elegance is smoother. I'll have to swatch them both and then decide. But all together the six balls cost me less than $10, so I figured I could afford them both (and i needed the free shipping)
I think I am snapping out of my mood. I need to before I stop wanting to be around myself. Thanks for the nice comments. Rachel wanted to know more about the Wuthering Heights tragedy. I will post more about it over the weekend. It will take some time to get it all out. And just so you know, I am a huge magazine fan too - Real Simple is on my list of read every month. I actually had to stop renewing my subscriptions cause I was getting too many. Darn Publishers Clearinghouse.