I'm tired of frogging these socks
I have decided that it is easier to take socks with me than sweaters when I am knitting at work. So I took my soft cotton sock yarn, and started knitting away the other night using the
Sock Calculator
pattern. This is how much I finished.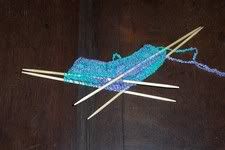 It is almost big enough for both of my feet (I have small feet, and this may be an exaggeration, but they are too big). So I frogged these socks for the third time! I want to do a top down sock. But I don't think I have chosen a good pattern. So I better go in search of a better one. Any suggestions will be appreciated. But I am tired, so I think I will go to bed for now. I haven't yet picked up my neckband, I guess that will be my challenge for the week.
In the mean time, here are my boys.