What a night!
Last night was one of those nights on call when it becomes greatly obvious to me why I love what I do. Many of you would think I am crazy, cause the events of last night were not good. I mean we had a lot of normal deliveries and healthy babies. And that is always nice. But last night, there were two women who bring to the forefront the reality that childbirth was the number one killer of women 100 years ago. Now, no one died last night, but these two women became very sick. I don't want every day to be like it was last night. But it makes me realize that all of the things I have given up to become who I am is really worth it. It also makes me realize how precious someone's life is and how I must approach my privilege to take care of them with great humility. I don't want to get on my soap box, so I think that is enough.
On to the knitting content. I did go to my LYS sale before I went to work. And I walked out with this.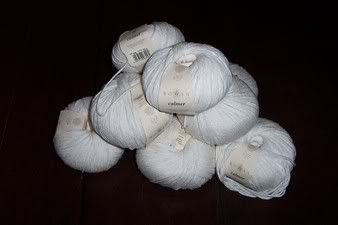 9 BALLS OF ROWAN CALMER! I couldn't resist. I have never knit with this and I think it will make a nice sweater. So now to find the perfect pattern. I am getting ever more close to finishing my tank. I'm going to try to finish it tonight. But that is a lofty goal.
I am watching Desperate Housewives and Bree, Marcia Cross's character, was just knitting! Wow, it is fun to see when knitting hits the main stream television. Well, I better get back to the sticks.
By the way, Happy Mother's Day to all of you who are mothers.