Here is Anouk #2!
Friday night my friends had what they called an elephant party. We all brought things we didn't want anymore and went shopping from the other peoples stuff. I got a bunch of things, nice things, and all for free! And the bonus was I didn't think that I was going to be able to go. I really lucked out.
I have finally finished my second Anouk. But I can't decide if it needs pockets. I think it is colorful enough not to add the pockets. And maybe I'll just oversew the flowers onto the bottom without the pockets.
Ashley
thinks it looks good like it is.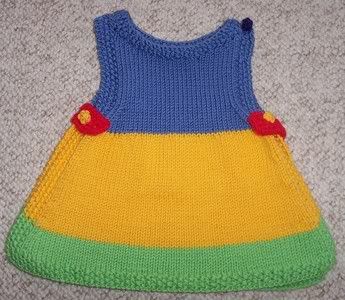 So not much else in knitting news. I am still trying to decide what to take with me on my trip. I bought some Homespun to make a baby blanket. I think I may take that. I was going to use
this pattern
from the Lion Brand web site.